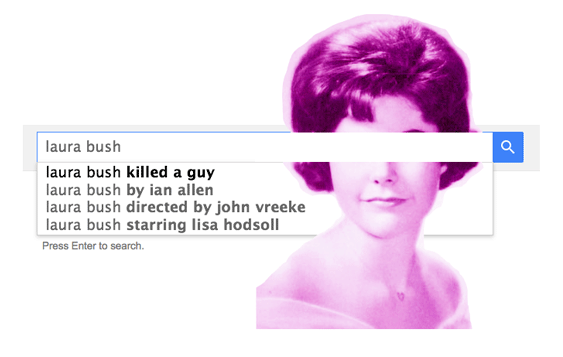 LAURA BUSH KILLED A GUY BEGINS NEXT WEEK!
"A tragic story from the former first lady's teenage days – when she was involved in a car accident in which a friend of hers died – has taken on a life of its own, getting passed around gossip websites and mentioned on "Family Guy" while earning its own Snopes entry. Director John Vreeke takes that tale to another level in this one-woman show, starring Lisa Hodsoll as the title character. The play takes a satirical spin through the former Laura Welch's early days to what the theater collective The Klunch describes as "a surprising re-examination of the Bush years." –John Taylor
Laura Bush is an enigma wrapped in another enigma. She's shy, beautiful, bookish, and in 1963, she blew through a stop sign and killed a guy. It was probably just an accident. Or maybe, just maybe… it was murder.

Join Mrs. Bush for this hilarious and heartfelt evening of real-life reminiscences of her childhood in Texas (untrue?), of her marriage to George W. Bush (a sham?), and of their rapid ascent to the very pinnacle of world power (an abomination?). Don't miss this highly-anticipated new work, which shines a light (headlights!) on the intersection of fact and fiction - a topic more timely than ever - as the memories fade, and the Bushes are starting to look like, well, maybe they weren't so bad after all.

Veteran DC director John Vreeke (Guards at the Taj, Detroit, The Intelligent Homosexual's Guide…, Gruesome Playground Injuries) teams up with Lisa Hodsoll, who'll play Laura in the one-woman show, following her acclaimed turn in Venue 13's A Fool's Paradise: 30 Shakespeare Scenes in 60 Minutes at The Edinburgh Fringe Festival this past summer. Hodsoll was nominated for a Helen Hayes Award for Theater Alliance's The Wonderful World of Dissocia. This world premiere production, by iconoclastic Klunch artistic director Ian Allen (Angel Shit, Baked Baby), is a smart, surreal, and surprising reexamination of the Bush years.

Who's Who: The Klunch presents Laura Bush Killed a Guy, by Ian Allen, directed by John Vreeke, starring Lisa Hodsoll as Laura. Lighting by David C. Ghatan, set by Kim Deane, costume by Rhonda Key, sound by Lucas Zarwell, stage management by Laura Schlachtmeyer.
Laura Bush Killed a Guy
MAY 3 to JUNE 4, 2017
by Ian Allen,
directed by John Vreeke,
starring Lisa Hodsoll as Laura.


The Klunch, a DC theater collective